The Application of Ice Machine in Aquatic Product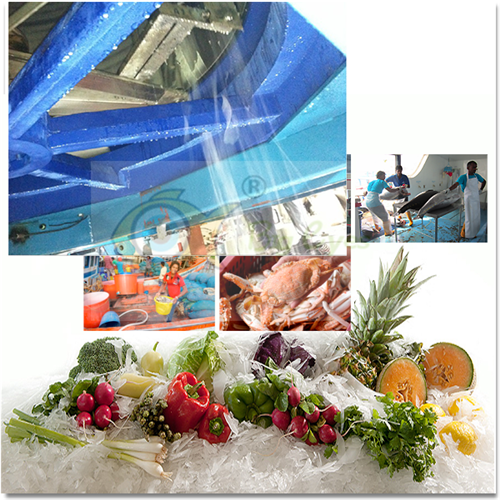 Ice can keep seafood in the ideal wet state, both to prevent seafood deterioration, decay, but also to prevent dehydration of aquatic products, frostbite. Melting ice water can also flush the surface of seafood, seafood, bacteria and odor removal to achieve the desired effect of preservation. So a lot of ice is used in the fishing of marine fisheries, storage, transportation, processing of the process.
First, the advantages of ice sheet
1. Ice-making efficiency, cold loss is small
Ice machine using the latest type of vertical spiral knife cut ice-type evaporator, ice forming ice spiral after the ice cut, so that the evaporator surface has been allowed to use, improve the efficiency of ice-making machine.
2. The structure is simple, small footprint
Tablet ice machine with fresh water, sea water, comes with cold source, the user with cold source, with a variety of series of ice storage.
3. Borneol quality, dry and not bonded
Automatic ice sheet machine vertical evaporator made of ice sheet thickness of 1-2 mm dry irregular flaky ice, good fluidity.
Second, the characteristics of ice sheet
1, direct low temperature, low temperature, up to -8 degrees below.
2, into the ice dry and clean, beautiful shape, not easy into pieces, good mobility, health convenience.
3, sheet-like structure, so contact with the cold area of LV large, excellent cooling effect.
4, chip ice without sharp edges and corners, will not damage the surface of refrigerated products, and is very conducive to storage and transportation.
5, the thickness of the ice can reach 1.2mm-2.2mm, and do not have ice crusher, can be used at any time.
Please feel free to give your inquiry in the form below.
We will reply you in 24 hours.