2 tons seawater ice maker flake ice
brand : BIGEYES
Product origin : Guangdong, China (Mainland)
Supply capacity : 400
Delivery time : 15Days
Basic parameter

Power supply voltage: 380V
Rated power: 9.7(kw)
Application areas:Ocean fishing, seafood cold storage, fishing vessels, refrigeration, etc.
Ice volume:2000kg/24h
Implement quality standards: Line
Attribute: foreign trade + domestic trade
Product net weight: Standard kg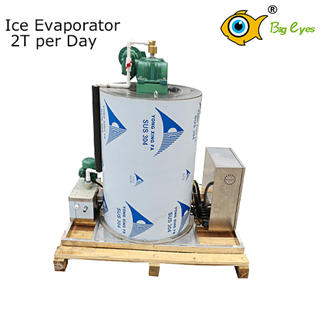 Product description
The 2 tons seawater ice maker is a kind of small size marine ice maker, it ice production efficiency is high, suitable for most small and medium fishing boats.

Usage method
(1)Before starting the automatic water supply device must check whether the normal 2 tons seawater ice maker , water storage tank is reasonable.
(2)Plug in the power, 2 tons seawater ice maker began to work, first of all, the water pump starts running, about 2 minutes after the compressor is started, the machine enters the ice state.
(3)When the thickness of the ice cube to set the thickness of the ice plate probe began to start, in addition to the work of the solenoid valve, the water pump to stop working, the heat into the evaporator, about 1 minutes or so ice fall. When the ice falls, the falling ice baffle plate turns over and turns on the magnetic spring switch. When the magnetic reed switch is closed again when the machine enters the ice making process again.
(4)Do not stop the compressor ice and Ice Shedding process.
(5)When the ice storing barrel full of ice, magnetic reed switches can not automatically closed, 2 tons seawater ice maker stop working automatically, when removed enough ice, magnetic reed switch closed again after, delay 3 minutes after startup of the machine, re entered the ice making process.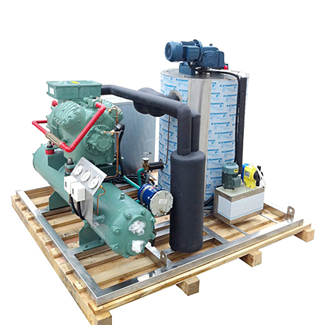 Your demand is our constant pursuit, welcome to come to consult.
Please feel free to give your inquiry in the form below. We will reply you in 24 hours.